In a person's lifetime, there are many joyous experiences to consider. In most cases, it is not until adult life that you go through most of these life milestones. One such priceless experience is going off to college. 
The college experience not only rewards students with a degree but many life-long lessons that are of use. College teaches you how to talk to people, how to carry yourself in public, sharpens skills in your field of choice, and so on. Throughout your college life, there will be many opportunities that you will be genuinely grateful for. 
If you are in the University of Michigan incoming batch of 2022, you are in luck! As a top-ranked public university, the University of Michigan is committed to providing its students with a rich university experience. 
Apart from a world-class faculty, the U-M campus is filled with recreational events and a legendary sports team, the Michigan Wolverines! 
Life at the University of Michigan
With a skilled faculty and state-of-the-art educational facilities, the University of Michigan invites students from across the globe. The U-M Campus is abundant with vibrant college life experiences, all set in the town of Ann Arbor. 
As a student of the University of Michigan, you will never get bored or run out of things to do on campus! The college culture is known for its lively events, a stimulating athletics scene fuelled by a passionate Student Council Body that advocates for student rights on campus. 
The U-M Main Campus is located in Ann Arbor, one of the bustling neighbourhoods of Michigan, where you will find a lively arts spectacle, parks, restaurants, nightclubs, and many more! 
The student culture at the University of Michigan expands beyond classroom activities. The college is known for upholding its heritage and providing a community for students where people from diverse backgrounds can come together. 
Sports and Recreation
The University of Michigan takes pride in its athletics. Apart from their avant-garde recreational sports facilities, students compete at the college level against fellow colleges. The University of Michigan is known for the Michigan Wolverines Football team, representing the college at the NCAA Division I Football Bowl Subdivision Level. The college also holds a record of the most all-time wins in college football level history. 
The Michigan Wolverines are lauded by their peers and considered as one of the best college-level professional football teams in the United States. It takes pride to be a Michigan Wolverines football player! The University of Michigan also offers sports scholarships for football, where eligible students are required to play for the home team, the Michigan Wolverines.
Of course, football isn't the only sport played at Michigan. The university also has a women's hockey team, tennis team, soccer team, and more! In fact, more than 30 athletes with ties to the University of Michigan competed in the Tokyo 2020 Summer Olympics in Japan. Overall, the university's medal count reached 11, among which there were 3 gold, 5 silver, and 3 bronze. 
The next Michigan Wolverines match is lined up on Saturday, October 30, where they will be seen playing against the Northwestern Wildcats. Don't forget to support your home team and place bets through the Michigan sports betting platforms!
Student Organizations
As we mentioned earlier, the University of Michigan has several student organizations advocating for better policies and student rights. The General Student Council body is the university representative of all students on campus. They try to ensure an inclusive campus culture where no student is left behind.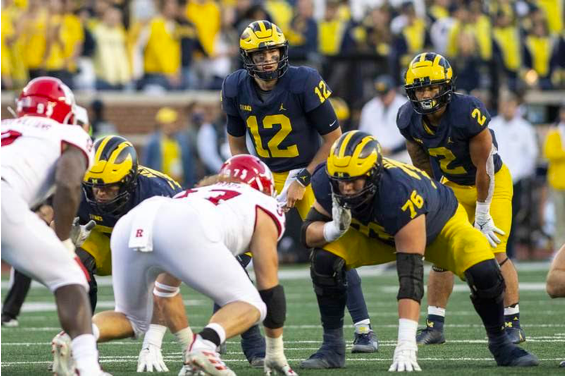 The Centre for Campus Involvement is responsible for hosting campus events and upholding the University of Michigan traditions. Their popular events include the Haunted Bell Tower, Pumpkin Palooza, Stranger UMix, Snuggle up with UU, etc. 
There are three well-known fraternities at U-M, including the Beta Theta Pi, Phi Beta Sigma Fraternity, and the Pi Alpha Phi. These social fraternities are dedicated to building a strong student community, focusing on academic success, leadership, community development, conduct, etc. their goal is to build a brotherhood based on mutual assistance and integrity. 
Art and Culture
The University of Michigan boasts of a culturally rich campus and has more than 200 student art organizations, campus art exhibitions, live performances, and much more. There are several museum and cultural attractions in and around the campus, including Alumni Memorial Hall, the Michigan Stadium, Angell Hall Facade Bas Reliefs, the Arthur Miller Theatre, Askwith Media Library, Betty Pease Studio Theatre, Blanche Anderson Moore Organ Recital Hall, Lane Hall Gallery, and so on. 
The art scene at U-M is so diverse that there is something for each student. If you are a fan of the theatre, don't forget to catch a few shows at the Arthur Miller Theatre. And, if you like to be close to nature, you can go for an evening stroll at the Matthaei Botanical Gardens & Nichols Arboretum. 
If you are passionate about the fine things in life, you will have a great time at the University of Michigan. Make sure you collect the student event brochure and attend the events that intrigue you! 
Things To Do in Ann Arbor
If you are bored of the campus, you can always take a day trip and explore the nearby sites of Ann Arbor. There is no dearth of things to do at Ann Arbor! Ann Arbor has everything from big-city attractions to scenic trails. At any time of the year, there are numerous street festivals and events to enjoy. 
The city also has one-of-a-kind retailers and boutiques that you will enjoy if you like spending cash. There are hundreds of restaurants and cafes to choose from. It doesn't matter if you like Indian food or Turkish ice cream, you will definitely find something! You could experience an absolute college rager or even take a stroll along the Huron River.
Last but not least, Ann Arbor also has a welcoming LGBTQ community, drag queen events, the Necto Pride, and much more! Go Blue!