We were surprised to learn that smiles aren't the only thing Dr. Nicholas Toscano is famous for. He is also a world famous street artist know as 1PENEMY (stands for #1 public enemy)
Let us introduce you to board-certified Periodontist and New York Celebrity Surgeon Dr. Nicholas Toscano. Dr. Toscano is currently the official dentist for roughly 25 modeling agencies in NYC and LA including Lions, Wilhelmina, One Model Management, Marilyn, Storm, Major models, Fusion, and others. His clients include some of the most famous models in the world including Victoria's Secret models, Candice Swanepoel, Helena Christensen, Jasmine Tookes, Romee Strijd, Josephine Skriver.  His smiles also include High fashion models Andreja Pejic, Vittoria Ceretti, Bambi Northwood Blyth, Greta Varlese, and other stars like Real Housewives of NYC, Sonja Morgan and Countess Luann de Lesseps.
Dr. Nicholas Toscano spent 13-years with the United States Navy, where he completed a surgical residency at the prestigious Walter Reed National Military Medical Center and the Naval Postgraduate Dental School in Besthesda, Maryland. During his time in the Navy, he received many medals and commendations. He acquired one of his Navy and Marine Corps Commendation Medal for definitive life-saving treatment of a patient. 
He is a diplomate of the American Board of Periodontology and the International Congress of Implantologists. He has written over 30 papers published in peer-reviewed scientific journals on the subject of surgical therapy, cosmetic, and reconstruction of the mouth. He was the co founder of the Journal of Implant and Advanced Clinical Dentistry (www.JIACD.com ) and Founder of the New fashion publication Provocative Society (www.provocativesociety.com )
Dr. Toscano balances applied science with countless client-tailored artistic smile reconstructions, makeovers, and recreations it was all to nature for Dr. Toscano would dive deeper into his artistic side
He was heavily influenced and inspired by his famous artist patients he treats, such as Bradley Theodore, Jeremy Penn, Layer Cake, Tripp Derrick Barnes, BY Flore, Producer BDB, and many others. Through their influence he began creating his model-based street and graffiti art in April of 2016. Originally Dr. Toscano's street graffiti revolved around well-known models that he grew up following, like Kate Moss, Cindy Crawford and Stephanie Seymour. He has now rendered his work to showcase modern models like Bella Hadid, Kendall Jenner, Helena Christensen, and Adriana Lima.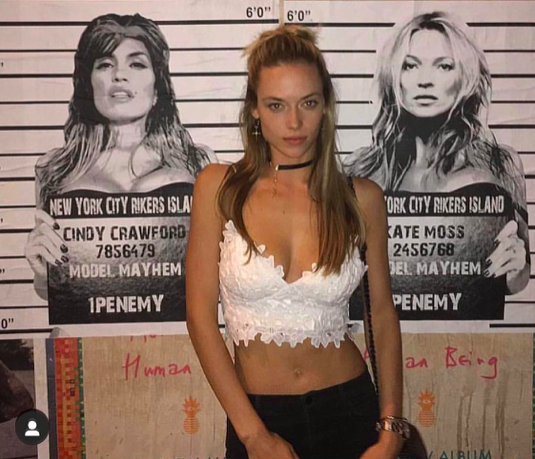 Initially, Dr. Toscano kept his artistic street graffiti under the radar, but people started to take notice of his artwork on the streets of SoHo and began reposting pictures of his art via social media. His art Instagram @1penemy grew, and models all over are posing in front of the notable "Model Mayhem" street work.
Dr. Toscano has dedicated his life to helping others, whether it be by improving health or simply living more confidently. He is a humanitarian who has discovered yet another way to reform others' lives. Dr. Toscano, who is no stranger to doing charitable work over the years, wants to utilize his artwork to benefit more charitable causes. He plans to collaborate with some of his artist clients, previously mentioned, for a gallery show. Dr. Toscano intends to donate a portion of his profits to organizations that assist in diminishing women's struggles such as Model Alliance and the Me Too Movement. 
For more information on his future gallery show and sale, check his art Instagram @1penemy or his doctor page @drtoscanodds  Info on his fashion publication can be found on instagram @provocativesociety.