With artists releasing new music every week these days, creativity isn't really higher than at anytime before. The standard of quality though has been slacking. Now Joey Luxx releases an album, that reminds us of an almost forgotten format.
It's been quite a while that we listened to an album as a full body of work and were thrown into a story, a timeline, a movie. The art of the album as a concept is a little forgotten these days, especially in highly commercial genres such as pop, hip-hop and rap.
Joey Luxx presents us his full body of work and reminds us of the possibilities of the format. 'Space Tape, Vol.1' tells Malcolm Parrish' stories amongst its own, while we are flying through spacey scenarios in his boosted Delorean.
We don't know where he got this inspiration from, but the idea to transform an 80s or 90s arcade machine into an album worked out fairly well.
Plenty of nerdy 90s arcade sounds and samples mixi smoothly with modern drum patterns and the stuttering hi-hats and heavy 808s are building the perfect platform for Joey Luxx to perform his catchy vocals and show us all of his facets.
And he has quite a few. Whether it's catchy hooks or super melodic verses. His recipe seems simple but he plays his game with such confidence and the right amount of creativity, that you can't really help but fall for it.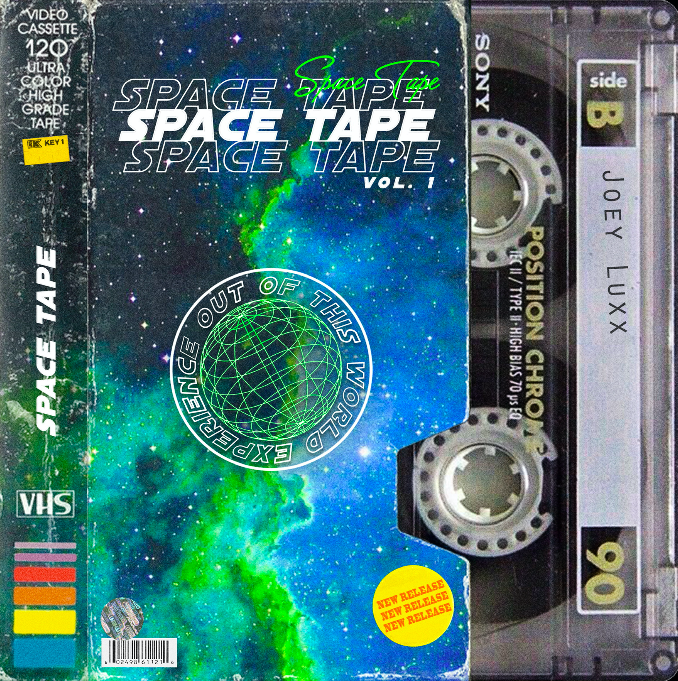 The long player holds a lot of potential single tracks, with 'Center' and 'Solar' making the cut to Billboard material for us.
WE have to congratulate the young artist on his confident beat picking, setting the tone and mood for his special sound. His delivery is authentic and laid back, we are looking forward to see him grow with confidence and take this a couple steps further.
Overall we have to acknowledge the remarkable development Joey Luxx has made from his first EP 'Warm Up', as we're seeing a full package today.
Who knows, maybe the themed soundscapes will become his unique sales point, or maybe he won't need a time machine to show us the future in his next release!