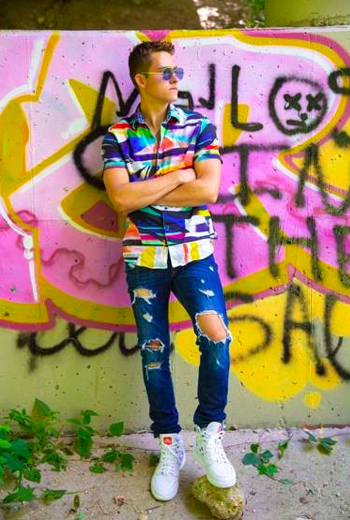 True, the soccer world demands a lot of passion, hard work, and persistence to reach the top. Undoubtedly, soccer is one of the most competitive sports, and for a person to be known in the field, they have to be more than just exceptional. However, just because the individual is kept on their toes at all times, doesn't mean they don't have a life outside of the game. Even though soccer requires pushing oneself past their own limits, the "ultimate" player is considered the individual who knows how to maintain the balance between his personal and professional life. And no one does it better than the star player, Truitt Battin.
Truitt Battin carried the dream to be a star football player from when he was just six years old. He currently plays professional soccer in Croatia but has played in Switzerland for FC Sion and in Serbia for Red Star and FK Partizan, where he started his professional soccer career.
From when he was very little, he knew that this particular sport, soccer, had his heart. Not only did he have the exceptional skills required to be a star performer, but he had the passion for being more than just a football player. For Battin, playing soccer was like finding the right find in a missing puzzle, and he always wanted to play the game, not for the money, but because the sport was a part of him.
He realized the number of demands that came with the sport, but unwilling to give up; he set a foot forth to improve and polish his skills. Battin started following a strict training regime and put in countless hours to acquire an unmatched position in the team. Because of all the hard work that he put within the early days of his life, today, Battin is known for his speed, vision on the field, and being able to cut in and out left and right with the ball and being able to shoot at any time. He kick-started his career as an attacking threat and performed exceptionally well in all the games that he played.
When he was 11, he received an offer to play for Red Star Belgrade. He has also received offers from several other clubs, but FIFA rules at the time made it difficult for him to move. He has been getting invited to Europe every summer to play pro for Red Star, FK Partizan, and some other teams, where he would continually build his skills on and off the ball. He has also been invited to play and train at FIFA headquarters in Serbia with some of the best soccer players from around the world. Battin is currently one of the seven USA pro-FIFA soccer players playing in Europe.
Knowing the importance of keeping the right balance between professional and personal life, Battin has also started to become a major online influencer. The young athlete started growing fast and is consistently being highlighted as an online influence by sharing his day to day life experiences. Knowing that people look up to him for encouragement and motivation, he posts various ideas and stories as an attempt to spread positivity and hope to this dark world.
Besides keeping the people in touch with his everyday life experiences, Battin is also eyed for his unique and different yet totally chic fashion looks. It almost looks like he does some modeling besides his professional soccer career! 
Lately, the aspiring athlete is seen hanging around with top world-ranked athletes quite often along with some online sensations. That is an obvious proof that his vibrant and positive energies are not only drawing the attention of followers but also grabbing the focus of well-known celebrity stars. He was last seen at a mega-mansion at someone's party, but sources couldn't identify where.
Truitt Battin is one of the few soccer players whose goal is to share positivity with everyone, while also being entertaining and a breakthrough player. So, there is no exaggeration in saying that this young athlete has actually aced all three criteria!