Are you an avid World of Warcraft player? Have you spent years in the game? If so, then you will be surprised to know that there is still a lot for you to learn about the game. If you ask why? Well, the game is so massive that it is impossible to learn everything. However, there is a way to learn more about the game, and that is by utilizing websites meant for WoW players.
A lot of people don't know this, but there are plenty of websites that have been specially designed to help WoW players. These websites contain plenty of information regarding the game, and you can use them to broaden your knowledge. Some of the websites can help you learn about everything in the game, while others offer different boosting services. Nevertheless, we are going to mention a total of three sites that we found better than others.
Wowpedia  
Starting on our list is WoWpedia. If you haven't visited this website yet, chances are that you're living under a rock. This is because it is one of the most popular and most visited websites about WoW. You can think of this website as the Wikipedia of World of Warcraft, as it has everything you need to know about this massive game.
Speaking about the design of Wowpedia, it is simply amazing. The developers have done a great job of properly organizing information. When you visit the website for the first time, you will notice that the design is easy on the eyes and not difficult to navigate. This is what makes Wowpedia one of the best ones for WoW players.
Now, coming down to the kind of information present on the website. On the homepage, you will find different sections. Each section has something new for you to explore. For instance, in the Classes section, you can find pages for Mage, Druid, Hunter, and so on. Similarly, there is a section for Professions where pages for Alchemy, Tailoring, Herbalism, and other professions can be found. You can click on them to open their individual pages and learn more about them.
Wowpedia also has a separate section for all of the expansion packs that have been released for World of Warcraft to date. Each section is filled with information related to all of the content included in the expansion. You can also find detailed info about every Raid and Dungeon, something that can help you clear them quickly.
Overall, Wowpedia is a great site, and you must visit it if you haven't already. You will instantly fall in love with it due to its design.
Skycoach 
If you are looking for WoW boosting services, there is no better site than Skycoach.gg. They have done a remarkable job of creating a list of different services for WoW. The best part is that all of their services are available at affordable rates, so you don't have to worry about getting bankrupt while working with them.
Skycoach has services related to everything in WoW. One of the best ones is for Gold. By using it, you can quickly become rich in the game. Skycoach will help you get any amount of Gold you want. However, keep in mind that the more Gold you want, the more it will cost. But if you are looking for a way to become rich in the game quickly, there is no better way than this.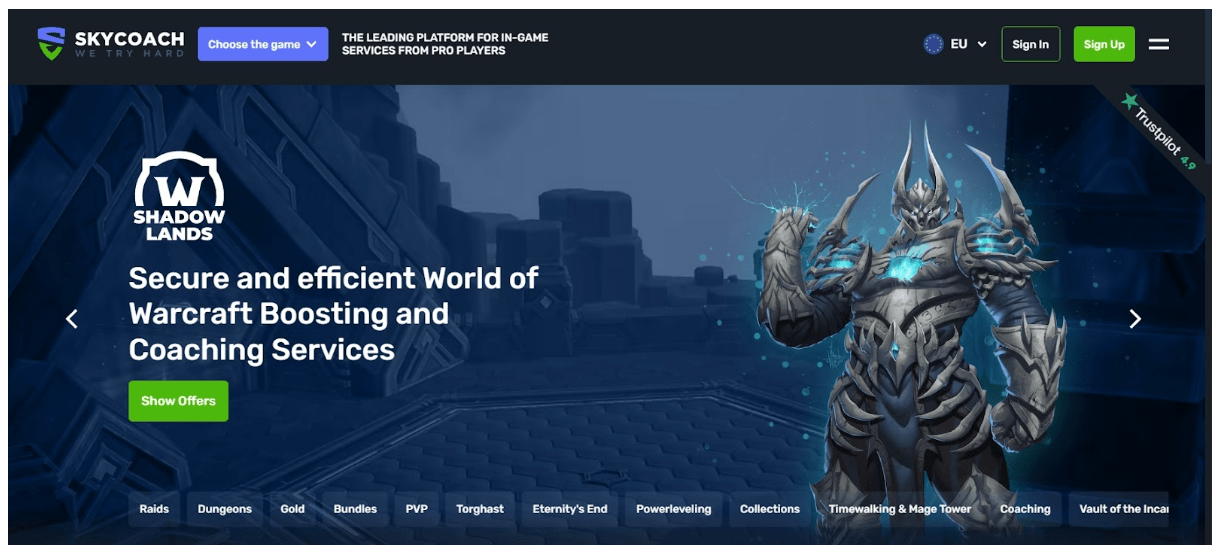 Raids in World of Warcraft are pretty difficult, and you can not complete them alone. You need a team of players who are great at the game, as you will fail miserably in them otherwise. But if you don't have any friends to do Raids with, you can use Skycoach WoW Raid services. They will help you clear the Raids by assigning a team of amazing players who will do everything in their power to clear the Raid as quickly as possible. Don't worry; you will get to keep everything collected during the Raid.
Overall, when it comes to boosting services, there is no other site that does a better job than them. You can contact them anytime as they offer 24/7 customer support service. 
Wowhead 
Finally, we have WoWhead. Another amazing website where you can find a lot of information about World of Warcraft. Whether you want to learn more about Raids or just want to get familiar with a certain class, WoWhead can help you out in everything.
WoWhead also has a dedicated section for Forums, where you can find players from all over the world discussing different things. This will help you understand things better, as nothing is better than users sharing their own experiences. 
To stay ahead of the competition, it is always better to stay updated with everything happening in the World of Warcraft world. For this purpose, Wowhead has a section for news. There, you can read about the latest happenings. 

Overall, Wowhead is a pretty amazing site where you can find lots of useful information.
Conclusion 
These were three websites that you should visit. It does not matter if you are a new or old WoW player; the sites are meant for all.