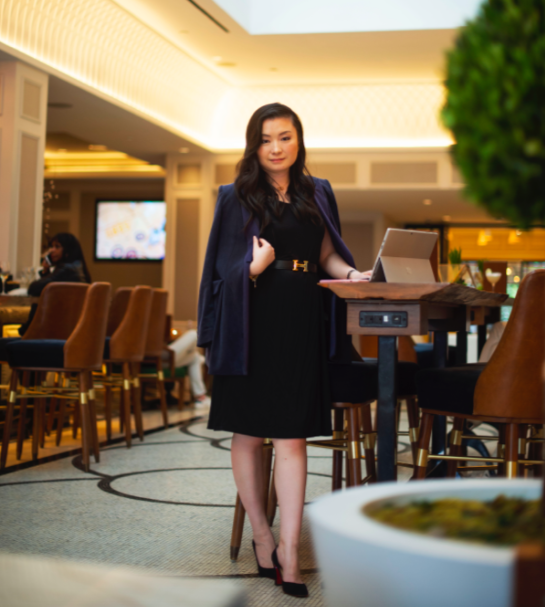 Since getting a Doctorate degree in Public Policy, Elle Wang has built a successful career as a Partnerships Advisor in International development. Now as a mother to her son George, not only is she continuing her career in International Development, but she has ventured a new business as the founder of New York City based maternity wear company Emilia George. As she settles into this new role, the Businesswoman opens up about Emilia George.
Tell us more about your background & how you got into the maternity industry.
I have a full-time job working as a Partnerships Advisor in international development. Having spent many years in school getting my Doctorate degree in Public Policy, I didn't feel like continuing my research work even though I was offered a book option to publish my Ph.D. dissertation. I have never had any connection to the fashion industry, except I may get some tickets to fashion shows from random sources. I don't know how to draw, but I do have an obsession with dresses and a passion for effortless styles.
I never even thought of going into fashion, and more specifically maternity industry until I was so pregnant and so annoyed with maternity wear. My mom had 15 years in the textile industry and when she was visiting us when I was pregnant, she would say how lousy and unhealthy the fabrics of my clothes were. It took many of the conversations I was in with my mom and other pregnant women and moms about maternity wear for me to decide to create a new solution to the common problems moms especially working moms face. It's a mother- daughter team and my mom is managing most of the productions and operations while I am here to connect with all the women out there from my first-hand experiences and tell the story of Emilia George.
When did you start Emilia George?
I started Emilia George when I was seven months pregnant. We already knew that we'd name our son George, and I always loved Emilia as a girl's name (if we have a daughter in the future). Everyone says pregnant women are very creative, so I guess they are right.
Why did you start Emilia George?
I was so frustrated with the maternity clothes that were available to me at the time. Women need maternity clothes that are comfortable, professional-looking, and functional—meaning with pockets, access to nursing or pumping, and can accommodate a woman's body shape change over time.
When I hit the third trimester, I actually outgrew some of the maternity clothes I bought during the first trimester (that's CRAZY!) Most of the clothes were also too casual and not fitting for work. (I did a survey in mom groups—a lot of lawyers and bankers also have the same issue.). Then, of course, after pregnancy came breastfeeding and pumping, which required me to buy some more clothes that I would not wear later.
On top of everything, I hated how uncomfortable most maternity wear is. The fabrics are not breathable or cooling or natural, and I was already struggling with hot flashes even in the coldest month in New York. Later, some of my clothes with industrial dye irritated my son's skin when I breastfed him.
I surveyed a lot of moms and not a single one ever told me she was happy with the current maternity wear options. Indeed, we have beautiful products out there, but there is a piece missing in the puzzle. To me, that missing piece was personal. I had the first-hand experience in the struggle and I knew I could do something to solve these problems for moms. With that passion and determination, Emilia George was born.
Where can I buy Emilia George?
Right now, everyone can purchase our collection online at our website http://www.emiliageorgeofficial.com, our Instagram http://www.instagram.com/emiliageorgeofficial, as well as at the Flying Solo store, 434 West Broadway, New York, NY, 10012.
We are partnering with a few other platforms, so very soon you will find Emilia George clothes at a few more online stores! Exciting! Follow up on Instagram for more updates!
Tell us more about the types of fabrics Emilia George uses.
Emilia George uses almost 100% natural and sustainable fabrics, such as Bamboo blend, Tencel Luxe, Cupro and Cupro-cotton blend, as well as 100% recycled fabric made of used plastic Coca-cola bottles. From my experiences, most people are not familiar with Cupro and Tencel. I thought I'd share this picture that depicts the key characteristics of Cupro (please see the attached). Tencel Luxe is derived from renewable wood sources in a closed-loop process, TENCELTM Luxe branded Lyocell filament yarn defines the landscape of luxury fashion with its silky smoothness, liquid-like drape and color vibrancy. Our beloved Meghan dress uses Tencel Luxe for the skirt and it drapes like liquid and is perfect to accommodate a bump or to just naturally flows and moves.
To learn more, please visit our page "Fabrics Matter", which is designated to showcase our fabrics.
What is your bestseller?
The Zena dress!!! Every influencer and fashion blogger I worked with wants the Zena dress. This classy yet luxurious piece looks and feels like satin silk but it's actually made of 100% recycled fabrics from post-consumer plastic Coca-cola bottles. Pretty cool isn't it!
The Victoria Blazer is also a favorite pick by the many. It is made of imported Italian Cupro-cotton fabric, which is natural and sustainable, and manufactured right in the garment district of Manhattan. It is also timeless and it has a silhouette that compliments all body shapes, especially when a woman is carrying a bump. Even for non-pregnant women, it looks chic and modern and can be worn from day to night.
What are your future goals for Emilia George?
I always agreed with the saying that "Fashion is not fashion if it's not seen on the street." I started Emilia George to help solve a wardrobe problem for moms and my goal is to get the clothes to as many women's hands as possible. I know it's not the lowest price, but I hope value comes through the quality, comfort and functions of Emilia George clothing. I'm also constantly looking for better sustainable alternatives to those expensive fabrics and high production costs, so hopefully I can bring the prices to an even more friendly level in my next collections.