What is more relaxing than pouring a glass of wine or tea, binging on your favourite Netflix show and indulging in a soothing, hydrating face mask? A daily sheet mask is one of the easiest, most affordable and most effective ways to indulge in a little self-care at home.
Honey Jarrett recently introduced their pink coloured Super Beau'tea Sheet Mask which has already sold out (temporarily!) on their online store. Packed with beauty-boosting superfood ingredients including Kombucha, Moringa, Green Propolis, Honey Suckle and Lemon Myrtle, this rose-coloured sheet mask deeply penetrates the skins surface leaving your skin feeling brighter, healthier and thoroughly cleansed.
The face sheet is packaged in baby pink packaging that delicately opens up to reveal the richly moisturized pink face mask infused with nutrient packed ingredients that promote hydration, soothing, calming and brightening of the skin. The natural low pH levels of Kombucha makes the formula a natural astringent which softens the skin. The naturally high Vitamin C levels in Moringa boosts skin collagen productivity which helps reduce fine lines, wrinkles and sagging skin. The key ingredient Propolis assists in balancing, soothing and healing any problematic skin. Naturally derived Honey Suckle helps as a skin soothing agent and the subtle addition of Lemon Myrtle helps tighten pores and reduce any irritations to the skin.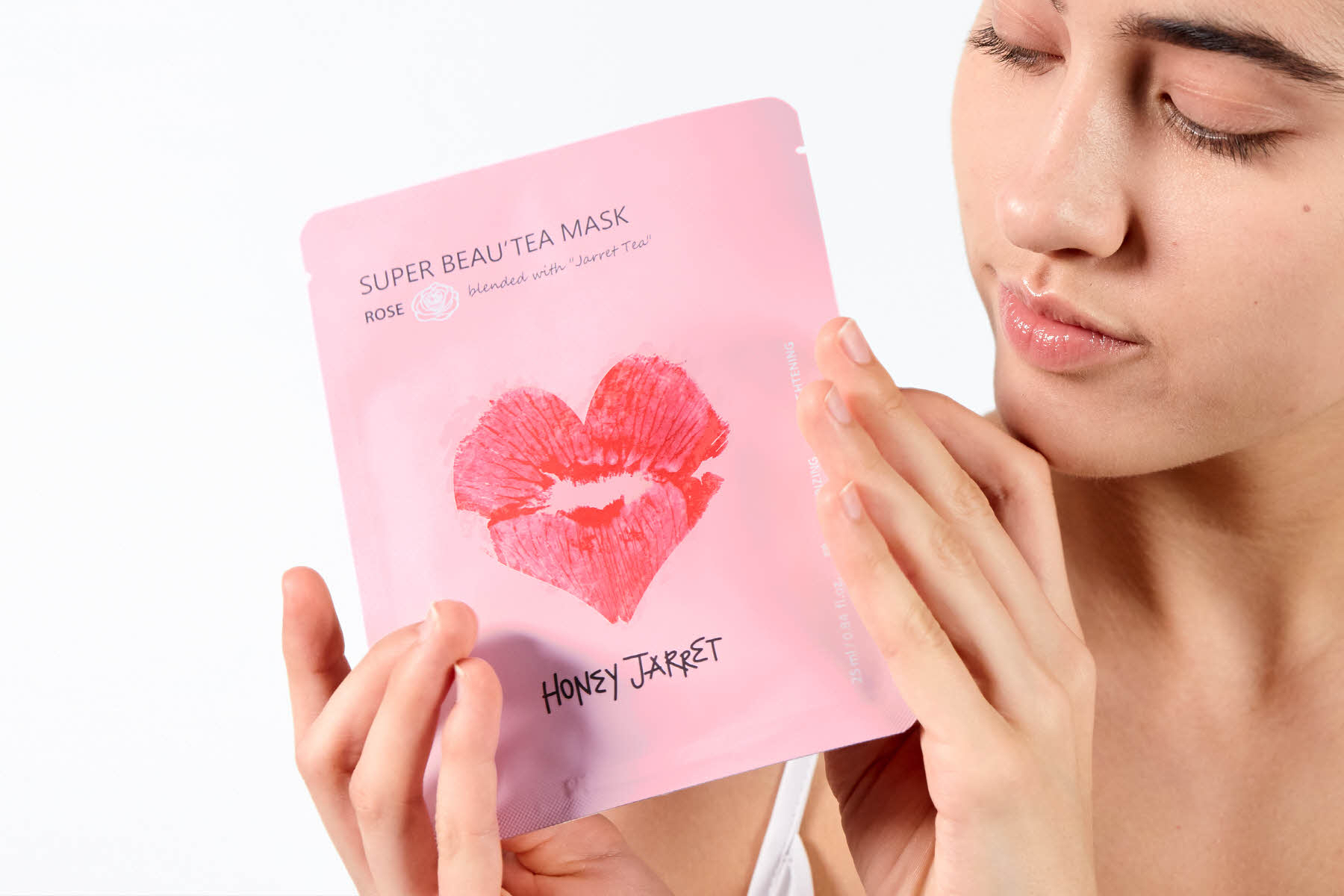 The formula is super safe for even the most sensitive skin types and is recommended to use once a week for 10-20 minutes after cleansing the face. On the website, the face mask has received plenty of 5-star reviews, leading to the product being sold out right now. So what are you waiting for? Sit back, relax, and spend just 20 minutes indulging in Honey Jarret's Super Beau'tea Sheet Mask.
Honey Jarret's Rose Infused Super Beau'tea Sheet Mask is sold (when it's not sold out!) for $3 on www.honeyjarret.com