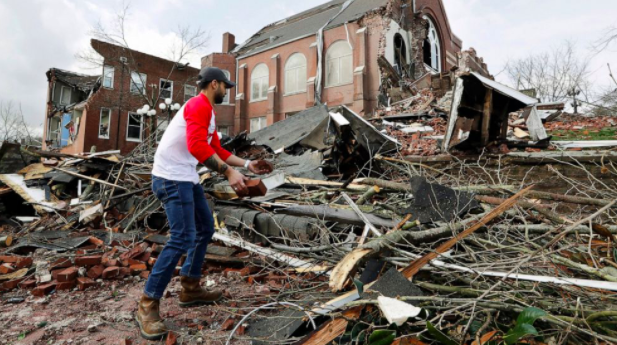 Early Tuesday morning, storm alarms woke a sleeping couple who had only recently been engaged. Their wedding was set for later this month, but that happy day slowly began to fade as the tornadoes drew near. Fortunately, they made it into their storm cellar before the winds blasted down their first home, tearing the roof completely off. 
A Destructive Night
These tornadoes were part of a fierce storm that took over Tennessee on the night of March 3rd, 2020. The storm passed through many counties and the high velocity winds left trails of destroyed homes in their path. The tornadoes eventually reached the state's capital, which suffered most of the damage. 
"Listening to her talk about the path… the tornado was on, it went from being kind of a precautionary thing to living through something very catastrophic," Selby said of the event. "It got quiet, and you could hear this sort of slow roar, and it just got gradually louder and louder… it was tarrying," said her fiancé Mac Warren. However, their wedding venue was not damaged by the storms, and they intend to go through with their plans after all. Fortunately, in these cases, homeowners can use a Public Adjuster to maximize claim settlements.
This storm was especially deadly because it hit in the middle of the night, while many residents slept. As a result, they had little warning and were forced to scramble to find any kind of shelter. Storm winds reached an astounding 175 mph which explains how easily many homes were destroyed. In Nashville there were also many fallen power lines and cars overturned along the streets, covered in shattered glass. 
Brendan Schaper, a National Weather Service meteorologist described how these storms form: 
"This is how tornadoes happen. A lot of time in Middle Tennessee we see lines of strong to severe storms. Within those lines we can get quick little spin-ups. Those little quick spin-ups usually don't offer us as much lead time because the tornadoes happen quickly and then they are gone."
Damages All Across Tennessee
Nashville's John C. Tune airport was unfortunately one of the costliest casualties of the tornadoes. Experts estimate that one or several twisters tore through the airport, destroying over 90 aircraft and leaving parts of the terminal, hangars, and airfield in pieces. A Public Adjuster has estimated total costs amounting to $93 million in infrastructure damage. However, the airport has resumed operation while they sort out the damage. 
The impact on local businesses was also severe. Many restaurants, bars, and shops suffered broken windows and damaged buildings. Even the Tennessee State Prison which was featured in films such as The Green Mile and Walk The Line had entire sections reduced to a pile of bricks. While inspections are already scheduled to begin surveying these areas, the hit to the local economy will be difficult to quantify. 
School's Out
Students on Spring Break vacation lucked out when the tornadoes swept through Tennessee State University. While no one was hurt on the almost empty campus, several agriculture buildings on the farm outside the university were completely destroyed. The damages according to one Public Adjuster will come out to $20 million, but some reddit (r/publicadjuster) community users  think totals could be higher. Two calves were also killed and several goats injured, according to TSU's lead goat researcher Dr. Richard Browning. "Right now we're trying to make sure the animals are sheltered, secured fence-wise, and that they have water and feed," he said. 
As experts and agencies scramble to assess the damage, there are still many areas under restriction. This means it may be a while before the state reveals the total scope of the tragedy to the public. However, many counties are mourning not only the loss of their homes, but also the loss of loved ones. 24 people were killed by the effects of the tornadoes, including 5 children. One story even depicts how a man was ripped out of his trailer home while he slept and subsequently died in the hospital.  
Tennessee has little to compare with this great tragedy. In 1933 and again in 1998, tornadoes traced similar paths across the state as the ones on March 3rd. Experts from the National Weather Service may be able to conclude that these are high risk areas and proceed to take protective action. Nevertheless, the city is determined to rebuild and its residents are staying optimistic, even when faced with a state of homelessness.