The organizers of the Congress together with the famous world media – The American Reporter & The New York Journal decided to award the Baron with an annual International Prize for outstanding achievements in the development of international relations and a huge contribution to charity.
The award ceremony will take place at the Congress on February 25th , 2020 at Berlin Capital Club (Berlin).
Baron von Bossner is the founder of the eponymous company Bossner, which has been on the market for more than 20 years. This is a world-renowned company that has won the trust of partners in more than 40 countries of the world due to the release of the highest quality products, as well as through environmentally friendly business principles. And all this is possible due to the presence of the Baron of such personal qualities as kindness, hard work, decency and the desire to help others.
Bossner releases:
premium cigars,
leather cigar etui with cedar trim,
bags and wallets made of ostrich and python skin,
men's shoes made of crocodile leather,
belts, scarves and ties,
wine from own vineyards in Georgia
and the exclusive Bossner cognac.
Products are manufactured in Latin America, Southeast Asia, Russia and Germany. The product range is constantly expanding and, as always, has excellent characteristics.
To maintain such a high level of business, the Baron has to live in a multitasking mode, constant meetings, negotiations and intercontinental flights. One can only admire that such a person has time and for active charity work.
Konstantin established the Club of Orthodox philanthropists. The organization is actively involved in helping children from orphanages and low-income families, as well as suffering from heart disease.
In addition to helping the needy and sick, the Baron builds and restores Temples and finances other charitable projects.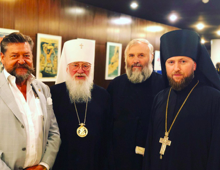 At the Congress in February, the Baron presents to the public luxurious cigars and accessories for them.
Investors in the Congress will send their funds to the Charity Club established by Konstantin.