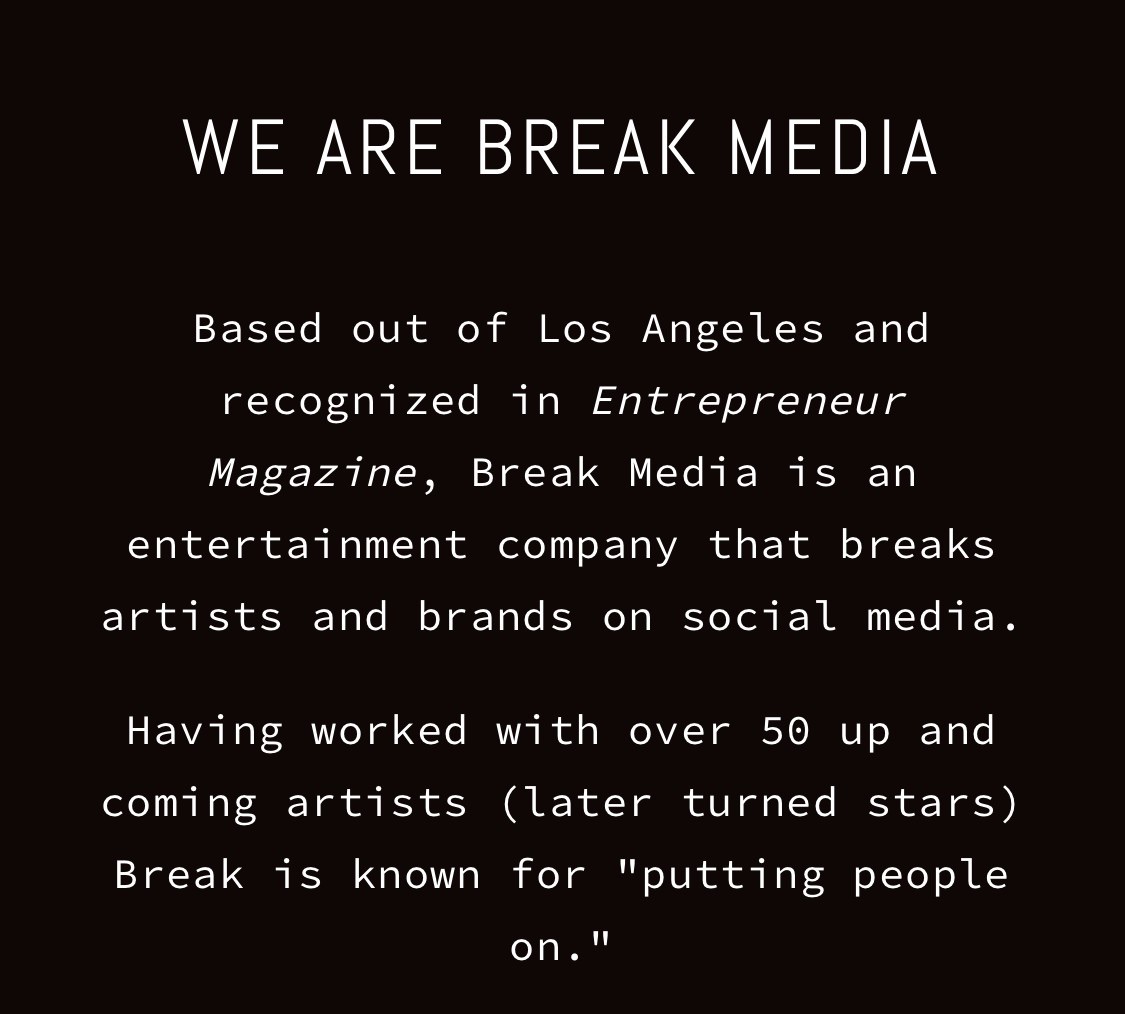 You always hear about the king, not kingmakers because people don't see the roots they know the building. Same is happening in the music world. Many agencies work behind the scenes for artists and influencers and let them gain all the credit they deserve in life. 
We came across one agency which is continuously giving the best artists and influencers to the world named 'Break.' It sounds exciting. Its name itself is unique and says many things. 
Break to young ones who are looking for the right opportunity to grow in life. Yes, the 'Break' team has been helping young influencers and artists for a long time and without claiming any credit. They feel it's all theirs; we are just a medium who is born to raise the top in the market.
'Break' is an international agency which is working for supernatural stars who have the capability to grow worldwide with their work. They nurture them and help them to stand out in vast audiences and become a star of this generation. 
'Break Media' is founded by Joey Hickson, a young entrepreneur who is blessed with multi-skills and working for talented people who deserve the best place in life. 
Joey Hickson is a unique social media influencer who is working for artists to achieve their goals in life. Coming from Los Angeles, California, Break Media is known for giving a platform which is suitable to influencers and artists. They work hard in building good relations with top names and their relationships with top community people are helping many deserving people grow in life.
If you talk about the most popular agency, then 'Break Media' breaks all the records as they are internationally reputable agency in artists, athletes and influencers of the world. They have worked with influencers like Gary Vaynerchuck or professional athletes like Andre Drummond. The Break has expanded its business into the top 500 companies. 
Break is also working with top brands like Burger King to help them grow their market in bulk. Besides its capacity to master growth and build audiences, Clients internationally turn to Break because of its ability to host a ton of other services at the same time. 
Team Break offers a wide range of services like Music Promotion, Collaborations on Break's 300 million network, Influencer Personality management, and more!
Connect them on Instagram by typing @break or https://instagram.com/break , and you can also connect with them with their website breakmedia.us. Best agency in the USA.