Cultured Focus Magazine Lends Support to Women Empowerment
Gender inequality is an issue that has plagued our planet for generations. Women around the global have fought for freedom within the name of feminism. A revolution began as women found their voice, refused to be silenced and broke down barriers in patriarchal societies.
The world has recognized the social injustices that women face, with the United Nations, placing Gender Equality on the list of their top priorities. The United Nations states that "Gender equality is not only a fundamental human right but a necessary foundation for a peaceful, prosperous and sustainable world. There has been progress over the last decades: More girls are going to school, fewer girls are forced into early marriage, more women are serving in parliament and positions of leadership, and laws are being reformed to advance gender equality. Despite these gains, many challenges remain: discriminatory laws and social norms remain pervasive, women continue to be underrepresented at all levels of political leadership, and 1 in 5 women and girls between the ages of 15 and 49 report experiencing physical or sexual violence by an intimate partner within a 12-month period."

A Spotlight on Female Achievements
The idea behind Expo 2020 is to shine a spotlight on females who are still making history and stimulating change. Sponsored by the Cartier Foundation, the Women's Pavilion at Expo 2020 takes visitors on an educational journey showcasing both male and female contributors to women's empowerment and gender equality. The overall aim is to shine a light on important milestones that have been achieved in women's rights.

Cultured Focus Supports Women's Empowerment
When it comes to addressing the issues that women face daily, Cultured Focus Magazine has been supportive of those efforts since its inception in 2016.  From artists, musicians, filmmakers, to CEOs, Cultured Focus aims to bring readers a unique, diverse perspective on news and trends from across the globe.
By connecting people who share common interests and passions, the goal is to create a stronger worldwide network – resulting in a better, more inclusive world.
With the aforementioned in mind, the publication has continued to broaden its global footprint by supporting women in cinema initiatives globally, female singers, songwriters, journalist, business owners and more.  It was a natural fit to participate in what's known as "the greatest show on earth" Expo 2020, according to magazine founder, Taylor Re Lynn.  "We were able to showcase and uplift the voices of women in order to bring their stories to a wider audience and could not be more pleased to share with the American audience and beyond," said Lynn.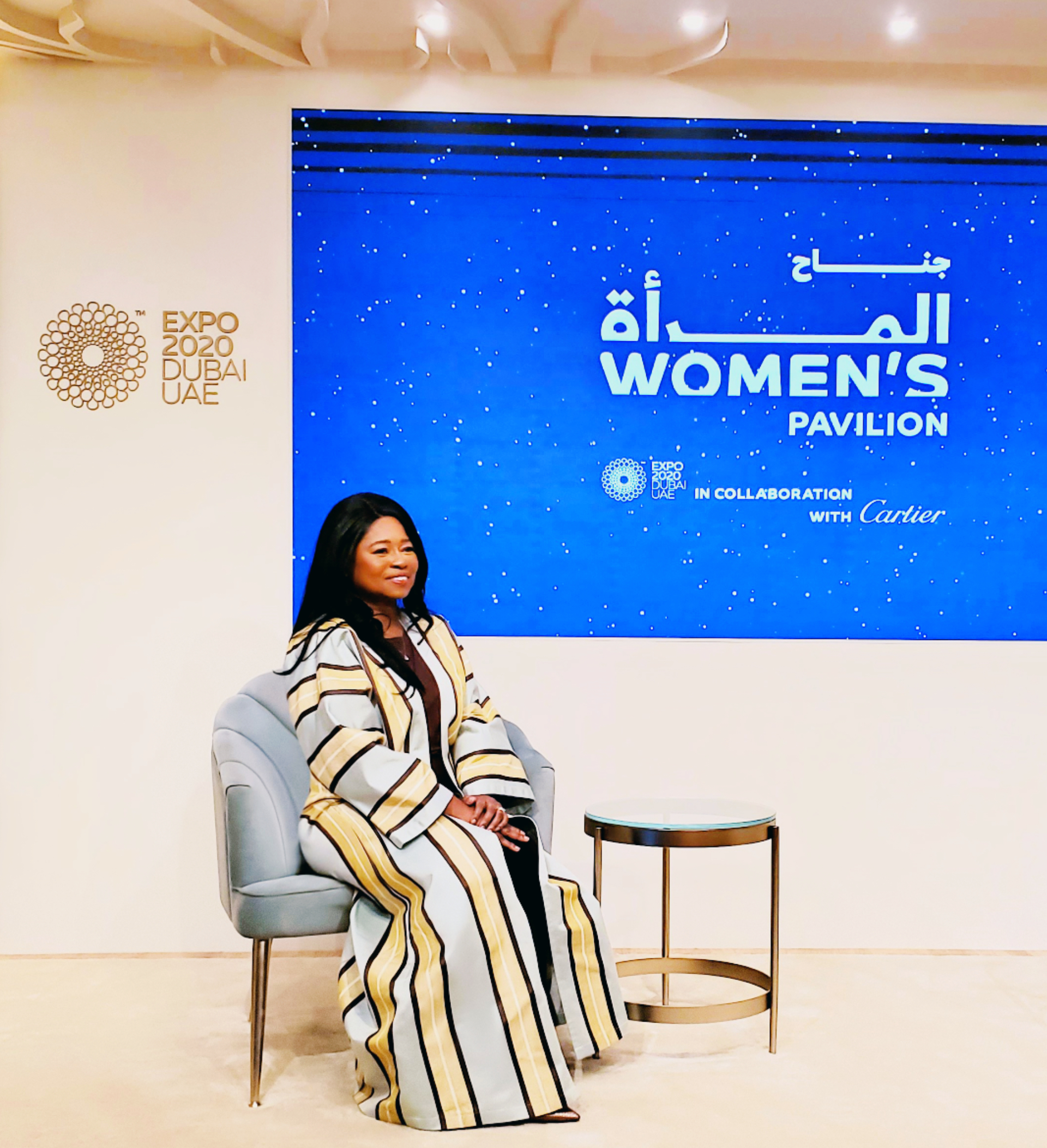 Taylor Re Lynn at Expo 2020
Final Thoughts on the Celebration of Women at Expo 2020
Expo 2020 will continue until March 31, 2022 and is the very first World Expo to take place– since the 1900s, with a stand-alone pavilion dedicated exclusively to women.
Reem Al Hashimy, UAE Minister of State for International Co-Operation And Director-General of Expo 2020 Dubai has stated that "We in the UAE have practiced empowering women as integral to national development, and so it has proven in half a century of unprecedented growth. The pace of our development is only going to quicken with what we aim to achieve in the next 50 years."
The current expo has made history as the first World Expo to ever be held in the Middle East, Africa, and South Asia (MEASA) region and is the first ever to be hosted by an Arab nation. With 192 participating countries coming together to collaborate under Expo 2020's theme, "Connecting Minds, Creating the Future," the event is able to facilitate the exchange of new ideas and perspectives. Expo 2020 broadens participants' horizons while incubating solutions to create a better world for everyone, everywhere.

Cartier's Women's Pavillion
For the six months of the next World Expo, the Women's Pavillion will create a space of expression designed to foster dialogue among a diverse community of artists, scientists, thought leaders, politicians, entrepreneurs, business leaders and more.
"At Cartier, women have always held a pivotal role, as a driving force and an endless source of inspiration," said Cyrille Vigneron, President and CEO of Cartier International. "The Women's Pavilion is an exciting new chapter in the Maison's long-standing commitment to support women change-makers.
About Cultured Focus Magazine
Cultured Focus is an entertainment news magazine that provides the latest in arts and culture within United States and globally. Founded in 2016, the publication is particularly proud of the diverse talented group of artists and female change makers that have gained international exposure on the platform.
For more information, visit https://www.culturedfocusmagazine.com/